Backstreet Boys Added To iHeartRadio Wango Tango Lineup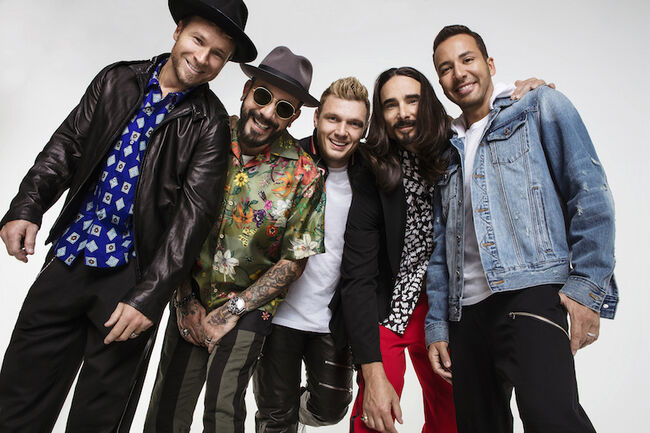 Over the last two decades, Wango Tango has become one of the biggest, star-studded mega concerts in California, and this year's show just got even better ... because the Backstreet Boys have officially joined the already incredible lineup of superstars! Get ready to relive all of your favorite BSB songs, people!
On June 2nd, Backstreet Boys will share the stage with the previously announced 2018 Wango Tango lineup of artists including Ariana Grande, Meghan Trainor, 5 Seconds of Summer, Shawn Mendes, NF, Miguel, Janelle Monáe and Marshmello with a special guest performance by Logic, and more to be announced.
The Backstreet Boys have performed at Wango Tango, previously, four times (in 2001, 2004, 2005 and 2017). Nick Carter talked to Wango Tango host Ryan Seacrest about BSB joining the lineup, and joked, "We have a residency now at Wango Tango," adding, "We cannot wait to be a part of this."
Carter also confirmed that the group has a new single on the way and will be performing it live in their Wango Tango set! He said, "Yes, we will be performing our new single. We can't wait to rip up that stage."
Hosted by Ryan Seacrest, the 2018 iHeartRadio Wango Tango will kick off the summer on June 2nd, and will be the very first concert held at the all-new Banc of California Stadium in Los Angeles.
The best part is, music fans from all over the US can watch it all go down via a live stream exclusively on ATT.com and Twitter. Wango Tango will also be broadcast live via iHeartMedia radio stations throughout the country across more than 150 markets. Finally, re-live the amazing summer kickoff by tuning into an 90-minute television special, exclusively on Freeform, on Sunday, June 3rd at 8 p.m. ET/PT.
For updates and more information about the 2018 iHeartRadio Wango Tango by AT&T visit iHeartRadio.com/WangoTango or follow #WangoTango on Twitter, Facebook and Instagram.
Get pumped for this year's iHeartRadio Wango Tango by listening to the official Wango Tango playlist on iHeartRadio.