Bad Bunny Releases Kobe Bryant-Inspired Song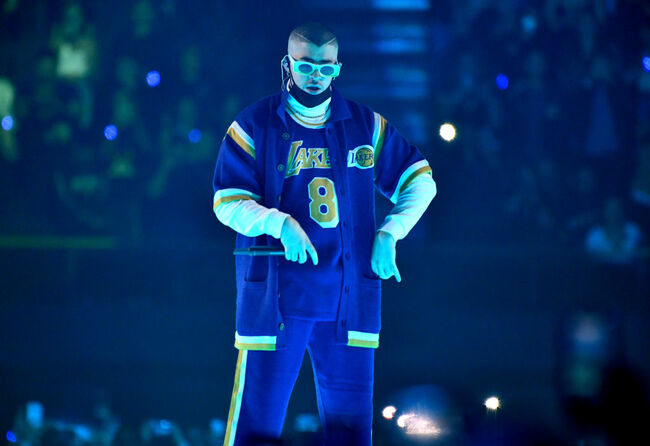 Puerto Rican superstar, Bad Bunny, released a new song titled "6 Rings" honoring the late Kobe Bryant.
The singer shared a snippet of the track on his Instagram, singing "I still remember the first game of yours I witnessed, the excitement and the many times you got me on my feet ... You showed me that everything in life is done with passion. To win, you have to have a heart." Kobe Bryant tragically passed away Sunday morning - January 26th.
Bad Bunny reacted to the tragic new by sharing a photo of Bryant, captioning it "jamas hubiera imaginado que esto me dolería tanto!", which translates to "I never imagined this would hurt me this much". The singer continued, adding "Aun recuerdo la primera vez que vi un juego de basket, a los 7 años con mi papá, y fue un partido de este genio, y desde ese día en adelante se convirtió en mi jugador favorito". Translation: "I remember the first time I watched a basketball game with my dad at age 7 it was one of this genius' games, and since that day he's been my favorite player."
See Bad Bunny's heartfelt Instagram post below:
"6 Rings" comes just a day after the 41-year-old athlete, his daughter Gianna, and seven others died in a helicopter crash in Calabasas, California.
Fans of Bryant know that the six rings Bad Bunny refers to in the song are Bryant's five championship rings plus his marriage ring. "Congratulations, you also won 6 rings ... Five in the NBA, a marriage that gave you your daughters. Thinking that one left with you makes me lose control, but, nah it's for you to have someone play with in heaven," the melancholy lyrics say.
Listen to Bad Bunny's new track below via SoundCloud:

Patty Rodriguez
Want to know more about Patty Rodriguez? Get their official bio, social pages, articles and more!
Read more