Bobby Brown Denies Hitting Whitney Houston During Intense Press Conference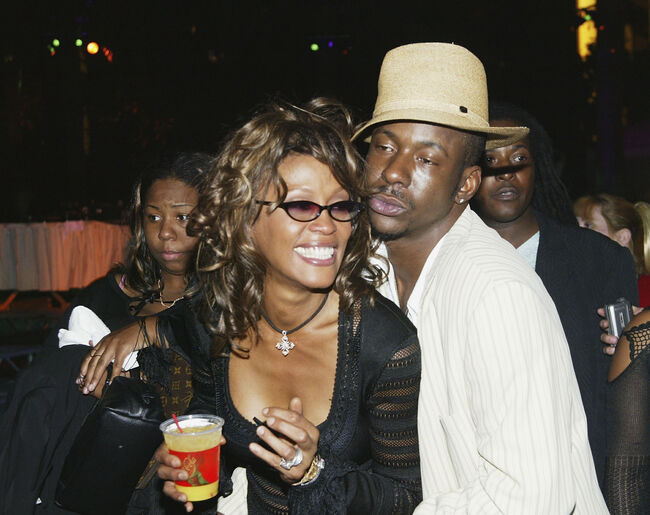 While promoting his new BET miniseries The Bobby Brown Story, R&B singer Bobby Brown reportedly revealed to journalists that despite rumors and documented police reports, he never had any "violent incidents" with late wife Whitney Houston, according to Entertainment Weekly.
The artist held a press conference at the Beverly Hilton Hotel, coincidentally the location of Houston's untimely passing in 2012, for the upcoming project and did not take kindly to increased questioning on the volatile nature of his marriage. He vehemently denied claims of violence stating:
"What people don't understand is the stories told about me are untrue, are false. We're correcting everything the press has believed about me. I'm able to tell my story from what I know, my truth. That's the basic reason we did this film. We did this film to tell my side of the story. What me and Whitney went through is what we went through."
Reporters allegedly continued to press the New Edition member further by confronting him with transcripts of a 911 call made by Whitney, to which it's validity he denied and claimed "there wasn't" any calls ever made to the police. He called the reporters "mistaken" and "completely wrong" before stating "the public record is wrong."
While now he's claiming there was never any violence in his marriage to Whitney Houston, People pointed out that in Brown's 2016 memoir, Every Little Step, he recounted an incident where he had hit her.
One reporter asked Bobby the question that was likely on everybody's mind: if the location they were currently in for the conference creeped him out. He replied saying "nah" because the spirit of his ex-wife was most likely there and it made him feel good.
"Nah, this is the place they choose and the spirit of my ex-wife is probably still here...that feels good to be here, and promote this movie, and be able to be here now with my wife and kids."
The Bobby Brown Story will pick up on BET's where their New Edition miniseries left off, documenting Bobby Brown's movement from group success to solo stardom and relationship to Whitney Houston. The program debuts on September 4th.
Photo: Getty Images