Brad Pitt Says He Wants His Kids To 'Follow Their Passions' Post-Oscars Win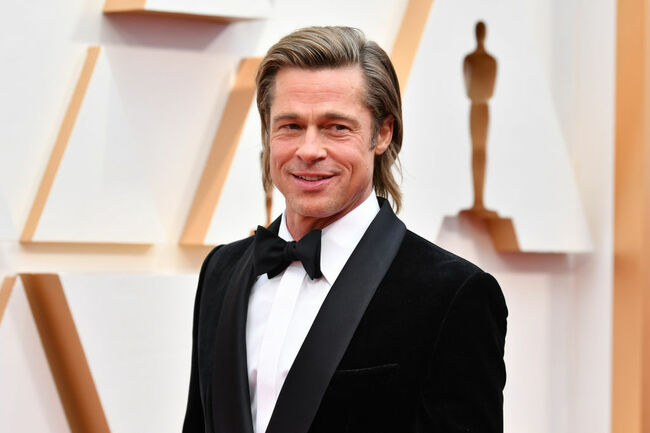 It was a huuuuge night for Brad Pitt last night at the 92nd Annual Academy Awards! Brad took the Oscar home for Best Supporting Actor for his role in Once Upon A Time... In Hollywood.
While on stage accepting his award, Brad told the story of coming to Hollywood and getting his first gigs - including thanking his "Thelma and Louise" co-star Geena Davis and the film's director Ridley Scott. He also thanked his parents for taking the chance and letting him pursue this dream. And then he dedicated the award to his children, who he shares with ex-wife Angelina Jolie, saying: "This is for my kids, who color everything I do. I adore you." 
Backstage, doing press after his big win, Brad continued a message for his kids - Maddox (18), Pax (16), Zahara (15), Shiloh (13) and Vivienne and Knox (both 11). In the press room, Brad talked about his hope for his children to follow their passions, much like his parents allowed him to follow his own.
After Brad was asked if he has advice for his kids, should they choose to follow in his acting footsteps, he said: "We can have that conversation once they're 18."
He then followed that statement up with:
"Listen, I want them to follow their bliss, follow their passions, whatever they're most interested in... It's about guiding as you can, but they get to try everything on and try what their passion is. So, sure, why not?"
While this seems like a pretty simple rule for parents to follow, I think some people have a harder time just listening to their kids and letting them pick their own passions.
Do I often joke about wanting Aiza to become a cheerleader or gymnast like I was? Of course! But if that's really not in the cards for her as she gets older, obviously Michael and I will support whatever is her passion! And who knows what Maxon will want to do! Either way, the more we support our kids, the better our world will be.
Congratulations to Brad on the big win and massively successful awards season!
Get more from Sisanie here!
Photo: Getty Images
Sisanie
Sisanie is co-host of Ryan Seacrest's show On Air With Ryan on KIIS FM Los Angeles' Hit Music radio station from 5am-10am.
Read more