Garcetti Announces Year-Long Celebration With Mexico City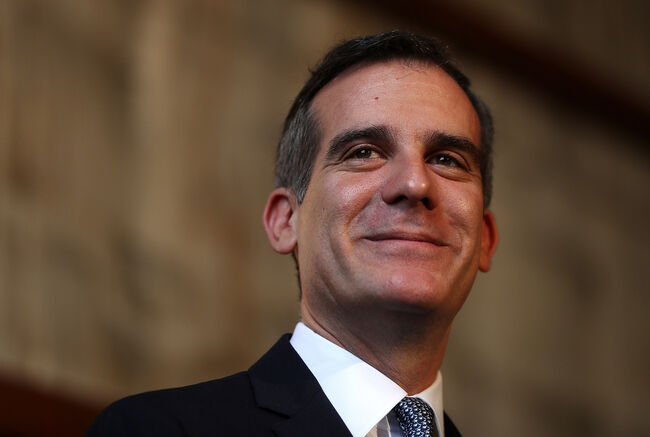 Los Angeles' Mayor, Eric Garcetti, is recognizing a major part of the city's history. Garcetti and LA's counterpart city, Mexico City launched a year-long celebration to commemorate 50 years as sister cities.
Here is what the mayor said:
``Our 50 years as sister cities have shown that when local communities work together, we have the power to make real progress on everything from trade and tourism to transportation and technology. I know that Los Angeles and Mexico City will remain leaders in confronting climate change, creating green jobs, improving resilience against natural disasters, and building a future of sustainability and prosperity for everyone who calls our cities home.''
Eric Garcetti is in Mexico City for a two-day trip focused on climate change, tourism and U.S.- Mexico relations. The "sisters cities" celebration -- L.A. and Mexico City -- will host a series of cultural events in both cities, including a film festival featuring Mexican, Chicano, and Angeleno film productions.
Los Angeles also plans on unveiling a mural at the Mexican Consulate in Los Angeles. The leaders of both cities will focus on technical exchanges revolving around clean technology, sustainable mobility and resilience, according to Garcetti's office.
Mexico City Head of Government, Claudia Sheinbaum said the following:
``This year marks the 50th anniversary of the sisterhood between the City of Angels and Mexico City, and we're going to commemorate our sisterhood with activities that will unite our cities even more. In particular, we are interested in the work that Mayor Garcetti is doing on climate issues, as well as issues of interculturality, human rights and migration. We're going to create celebrations this year in Mexico City that are dedicated to our friendship with Los Angeles.''

Patty Rodriguez
Want to know more about Patty Rodriguez? Get their official bio, social pages, articles and more!
Read more