'Roma' Star Yalitza Aparicio Brought Her Mom to The Oscars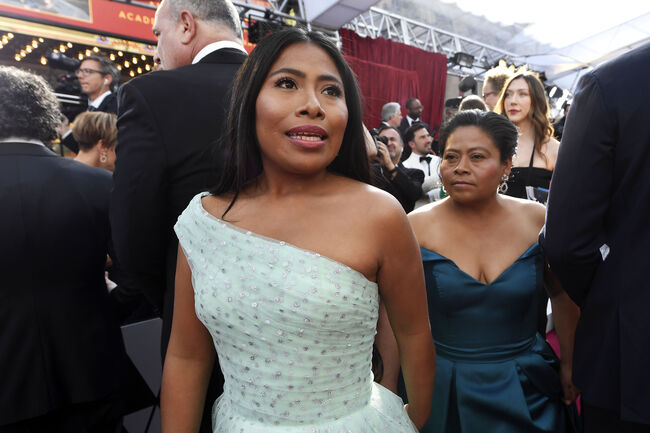 Roma star, Yalitza Aparicio skyrocketed into the spotlight and has since continues to blow people away with her great message and most importantly, through representation.
There is absolutely no doubt that The Oscars were a very special evening for the Roma actress. She was nominated for an Oscar in the Best Actress categories (unfortunately did not win. Olivia Colman took the Academy Award).
You may be thinking "The Oscars were two days ago, who cares?"...but I would really to continue to shine light on not only the achievements of this stunning 25-year-old actress, but also the important person she brought with her to the Academy Awards this past Sunday.....her mother.
Aparicio graced the red carpet in a stunning minty green dress, designed by Rodarte and so did her mother in a lovely teal/blue dress. Nothing in this world like the love and support from a mother.
You might imagine how incredibly overwhelming this must have been for her mother, especially with the language barrier, but she must've been beyond ecstatic to be there supporting her Academy Award-nominated daughter.
Yalitza's mom encountered a special moment with one of the industry's most recognized actors. It was with none other than Mexican actor, Deigo Luna, which I am sure sent her over the moon.
Yalitza has told multiple news outlets that her performance in Roma as Cleo was a tribute to her mother, who works as a housekeeper.
Check out the precious and heartwarming photos from Yalitza's special night below. These are from her Instagram:
Alfonso Cuaron's film Roma walked away with 3 Academy Awards including Best Director and Best Cinematography.
If you're feeling as emotional about these pictures and this moment overall as I am, then I would love to hear from you! Leave your thoughts and comment.
Photos: Getty Images + Yalitza Aparicio's Instagram

Patty Rodriguez
Want to know more about Patty Rodriguez? Get their official bio, social pages, articles and more!
Read more