You May Want To Avoid The Pepper Shakers At Restaurants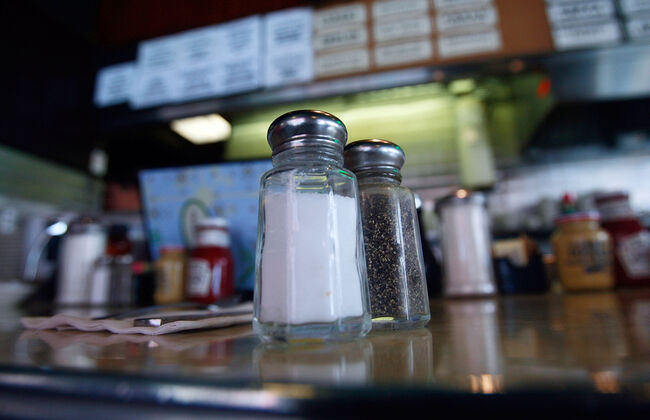 Experts are claiming that pepper shakers are the second dirtiest item at restaurants, right after menus.
So before you reach for the pepper shaker, keep the following things in mind: (1) How many people have touched it before you? (2) How clean does the shaker look? [stickiness or stains are a bad sign.]
According to Jonas Sickler, the director of operations at ConsumerSafety.org, "Most salt and pepper shakers are only wiped down if they appear dirty, and even then, only with a damp cloth that bussers keep in their pockets. While some restaurants collect, refill, and wipe down shakers, they are rarely properly emptied and sanitized."
Busier restaurants are more likely to overlook the cleanliness (or lack of) of the shakers.
"Another gross fact to consider is that parents, eager to occupy their little ones, will often let toddlers play with the salt and pepper during their meal. This means they will be covered in drool, and whatever else that is on the toddler's fingers, which will help germs adhere to the glass surfaces even better," Sickler continues. "Even people who don't intend to season their food will move them around on the table — definitely something to consider as we enter flu."
Besides bacteria, restaurants' shakers are also allergy hazards. "Shakers can accidentally be dipped — or even dropped — into your meal while seasoning. If the previous diner at your table contaminated the salt dispenser with their shrimp scampi, and you have a serious shellfish allergy, you could be putting yourself at risk by using it," says Sickler.
It seems like you're best either just bringing your own salt & pepper packets or just your own shakers from home. You do have a couple of other options of course! One that Jonas Sickler highly recommends is asking the chef to spice up the dish in the kitchen!
Parents, this is good advice. Try to keep your toddlers away from any shakers at restaurant since they are the second most bacteria-filled item in any restaurant. I'd love to hear back from you guys. How do you guys feel about this report?

Patty Rodriguez
Want to know more about Patty Rodriguez? Get their official bio, social pages, articles and more!
Read more