Experts Drop Age Limit For Rear-Facing Car Seats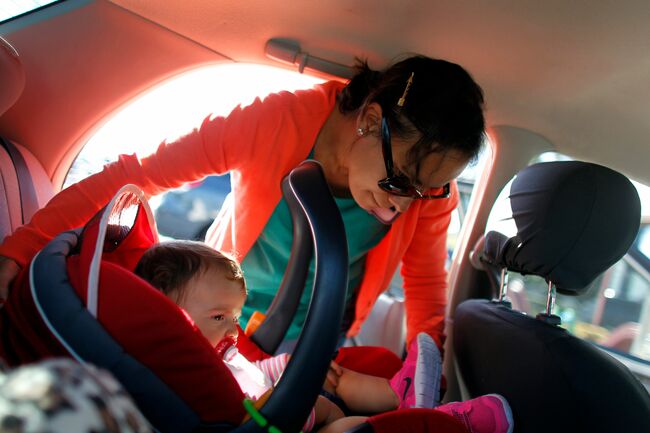 The American Academy of Pediatrics is updating its guidelines for children's rear-facing car seats.
The organization used to recommend parents use rear-facing seats for children until at least age 2. Now experts highly urge parents to keep their young ones in rear-facing seats until they reach the seat's maximum height and weight limit. That means even IF they are older than 2.
Under the new guidelines, most kids would keep using rear-facing seats until they're about 4 years old.
Dr. Benjamin Hoffman, lead author of the academy's updated guidelines, said in a statement:
"It's best to keep your child rear-facing as long as possible. This is still the safest way for children to ride."
By using the proper car seat, the risk of death or serious injury is lowered by more than 70%, according to the academy. All children younger than 13 years should be in a vehicle's back seat, it said.
This is a very important update for all parents around the world. Some children grow at slower rates than other children, so this makes sure children are at the appropriate and safe age/height requirement, despite age.
Parents can find height and weight limits for a car seat in the instruction manual.
If you're wondering what happens once your child reaches the height and weight limit, The American Academy of Pediatrics recommends a shift to a forward-facing seat, with harnesses for as long as possible, often up to 65 pounds.
Once your child exceeds the height or weight limits for those seats, they should use a belt-positioning booster seat until the lap and shoulder belts fit properly!
If you're on social media and wish to learn more fromThe American Academy of Pediatrics, follow them on Twitter at @AmerAcadPeds. They update regularly.
Parents, I would love to hear feedback. What do you guys think about this change?

Patty Rodriguez
Want to know more about Patty Rodriguez? Get their official bio, social pages, articles and more!
Read more