Normani Responds To Beyoncé Comparisons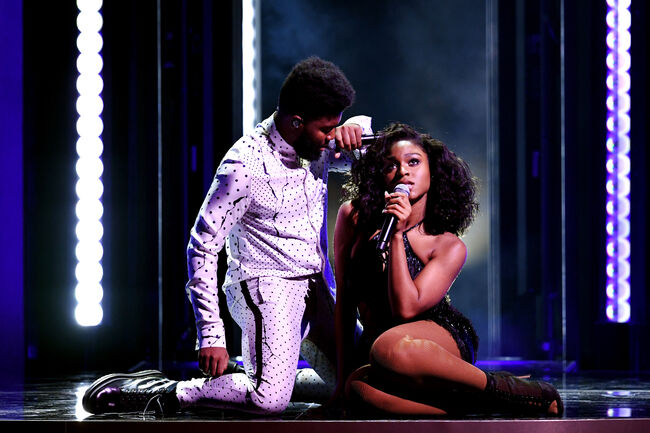 Since Fifth Harmony's hiatus, former member Normani has emerged to the forefront of pop music with her "Love Lies" collaboration with Khalid.
The stunning performer wowed with her Billboard Music Awards performance of "Love Lies" back in May, and since has continued to turn heads.
Some have even compared Normani to Beyoncé, dubbing her the "Beyoncé of Fifth Harmony". Here's what Normani had to say about the comparison:
"It's flattering, but I definitely have room to grow and improve," the singer told The Fader. "I want to work for my spot. It's not fair that I'm the 'next Beyoncé' just yet. But I hope to become that."
Normani is new to the solo game, but she already has a caliber of producers and collaborations on the way for her debut album. "I'm supposed to work with Missy Elliott really soon, which I'll go to Atlanta to do. I think I have two weeks with her. I recently worked with Stargate. I'm supposed to be working with The-Dreeam, Jude Demorest, London on Da Track, DJ Mustard, Priscilla Renea, Ester Dean who is a legend, there's a lot of people [involved]," the singer says.
No details on Normani's album title or tracks have been released, but what we can expect is "Normani's truth": "My Mom was raised in the same house in New Orleans that I was raised in as a little girl. I want to shed light on my truth."
Here's what Normani had to say about the creativity process of her new album:
"I'm able to go to the studio now and write about ideas that actually mean something to me. I am going back to the music that I grew up with that really inspires me. I get to pull from that and incorporate those sounds into this project. It's not like somebody else sitting in a chair over at the label has a set idea as to who these girls are going to be and us having to go along with that."
Watch the music video to "Love Lies" below:
Who's excited to hear Normani's new music? She recently confirmed that she is collaborating with Khelani and Cardi B in her upcoming album, so we are for sure going to get some BOPS!
Let's see if Normani can channel her inner Beyoncé!

Patty Rodriguez
Want to know more about Patty Rodriguez? Get their official bio, social pages, articles and more!
Read more