Everything You Need to Know For JAY-Z & Beyoncé's OTR II Tour at Rose Bowl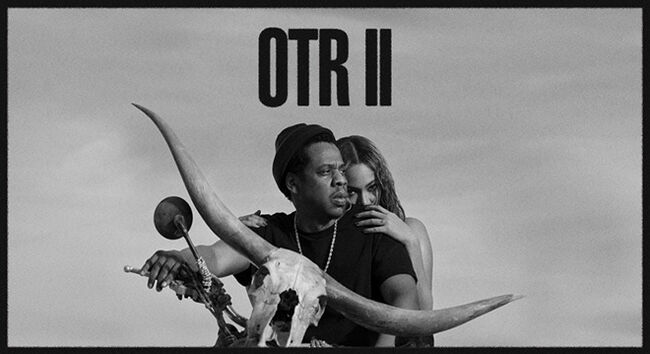 JAY-Z and Beyoncé's On The Run II Tour is finally coming to Los Angeles! Full houses are expected this weekend and fans attending the OTR II Tour at the Rose Bowl will want to arrive early & carpool to help beat traffic! Read all the info below for the venue's rules for entry, clear bag policy & best ways to arrive to the show!
Heavy traffic is expected this weekend. Please arrive early as to not miss a minute of the show!
In addition, the "Rose Bowl Happy Hour " begins at 3:30 pm near the Brookside Restaurant and gives fans their first shot at scoring tour merchandise, a wide variety of food and beverage options, great pre-show music and the chance to hang with other fans while getting pumped for the concert! Join our stations out there for the early fun!
Key timing for the Beyoncé and Jay-Z concert:
• Rose Bowl Stadium Parking Opens: 3:30 PM
• Rose Bowl Happy Hour: 3:30 PM
• Park & Ride Shuttle Operations Begin: 4:30 PM
• Gates Open: 6:00 PM
• Concert Begins: 7:30 PM
Don't miss the Official Pre-Party before the show featuring:
• Prizes, games, and radio broadcasts
• Giveaways including tickets, merchandise, ticket upgrades and food & beverage
• Food and drink specials
• Big Screen TV's featuring College and NFL football games
• Relax and beat the traffic at Brookside Restaurant during Rose Bowl Happy Hour!
Parking lots will open to the general public four hours prior to the event beginning, on event day. Guests will be directed to the closest available lot. For your safety and the enjoyment of all, we ask that you please help by observing the tailgating guidelines.
GENERAL PARKING
General Parking in Brookside Park and Golf Course are sold by the Rose Bowl Stadium, for $40 per car, in advance and $50 on event day. You can pre-purchase parking for Saturday, September 22nd here and pre-purchase parking for Sunday, September 23rd here.
LIMO, BUS & RV PARKING
Limo, Bus and RV Parking is $150 on West Drive is available in advance here for Saturday, September 22nd and here for Sunday, September 23rd and on event day. This parking opens four (4) hours prior to event time.
ADA PARKING
ADA Parking is available in the parking lots immediately adjacent to the Rose Bowl, and vehicles must display a valid State of California handicapped placard and registration upon entering these lots.
PARKING LOT POLICIES
Overnight parking is prohibited in all lots. Parking lots close 90 minutes following the conclusion of the event. Parking is first-come, first-served. No saving of parking spaces is permitted. In and out privileges are not allowed.
The Rose Bowl Stadium has implemented a clear bag policy for all events at the Rose Bowl Stadium. We strongly encourage fans to conform to the policy prior to arriving at the Rose Bowl Stadium. Otherwise large purses and bags must be returned to vehicle or checked in for a fee of $10 at the stadium's item check-in tent located at Gate C and Gate N.
Approved Bags:
12" x 6" x 12" Clear Plastic Bag
1 Gallon Plastic Freezer Bag
Clutch with Shoulder Strap (clutch may not be larger than 4.5" X 6.5")
Clutch with Wrist Strap (clutch may not be larger than 4.5" X 6.5")
Diaper Bag, as long as accompanied by a child
Non-Approved Bags:
Backpacks
Camera Case
Mesh Bag
Purse
Clear Backpack
Tinted Plastic Bag
Oversized Tote Bag
Printed Pattern Plastic Bag
Fanny Pack
Binoculars Case
STADIUM RULES & PROHIBITED ITEMS
Click here for the Rose Bowl Stadium's list of Prohibited Items, Tailgating Guidelines and the Fan Code of Conduct.
For more information about the rideshare drop-off and pick-up lot, please visit here.
Parking is available at the Parsons Lot in Pasadena on event day and features a $5 round-trip shuttle pre-purchased and $10 round-trip on event day, to and from Lot B at the Rose Bowl Stadium beginning three (3) hours prior to the beginning of the event and ending one (1) hour afterwards. Parsons is located at 100 W. Walnut St Pasadena, CA 91124 and access to parking is off of Fair Oaks Avenue.
To pre-purchase round-trip shuttle pass for Saturday, September 22nd, please click here.
To pre-purchase round-trip shuttle pass for Sunday, September 23rd, please click here.

#iHeartSoCal
The Best of SoCal - food, activities, events and more!
Read more