Disney's D23 Expo Is Back For 2019 At The Anaheim Convention Center!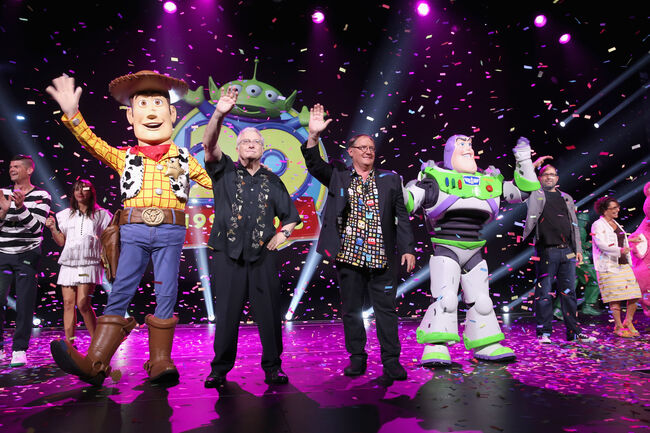 Disney's biennial D23 Expo is back for it's sixth run at the Anaheim Convention Center in 2019! Starting August 23rd, D23: The Official Disney Fan Club will start selling tickets for the event set to occur between August 23rd 2019 - August 25th 2019. The event aims to celebrate all of the entertainment universes housed under the Walt Disney Company umbrella, including Marvel, Pixar and Star Wars. You can find information on ticket pricing here.
The Expo promises to showcase the company's biggest franchises and stars in a variety of panels and immersive fan experiences. At the last D23 Expo in 2017, celebrity appearances included Oprah Winfrey, Reese Witherspoon, Robert Downey Jr., Chris Hemsworth, Mandy Moore and many more. 'Talent Central,' a programming event in which fans can meet some of their favorite Disney Stars is returning to D23 along with a daily parade on the show floor. Attendees will have the opportunity to peruse exhibits and shop on the floor as well.
The Disney Legends Awards Ceremony - one of their 'essential' D23 traditions - will be returning at the event. The men and women who the company has determined to have made 'indelible' contributions to the Disney Legacy will be publicly honored for their work. Inductees for the 2017 ceremony included Carrie Fisher, Mark Hamill and Whoopi Goldberg.
The Walt Disney Archives will also be putting on a much anticipated exhibition exploring some yet to be announced iconography from the company's expansive records. Last year the organization featured a look back at the history between Disney and how pirates have been used in their projects, called Dead Men Tell No Tales: The Walt Disney Archives Presents...A Pirate's Life For Me.
Fans of the Mousequerade costume contest will be excited to know they should start constructing some new looks, as it will be back once again. Actress Yvette Nicole Brown and fashion designer Ashley Eckstein will return as judges. Take a look back at some of the best costumes of 2017 here.
The theme for the D23 Expo 2019 Design Challenge has also been announced! Event organizers are encouraging attendees to create 'ghoulishly' delightful paintings, drawings, sculptures and designs based around fan-favorite theme park attraction Haunted Mansion. The ride will be celebrating it's 50th anniversary next year. Twenty three pieces of artwork will be on display throughout the event at a gallery on the show floor. One of those artworks will be chosen as the winner prior to the Expo and receive a cash prize of $2,300.
For the latest news on everything D23, you can visit D23expo.com.

#iHeartSoCal
The Best of SoCal - food, activities, events and more!
Read more