Jackson Wang Joins Add This Podcast To Talk 'Faded,' #TeamWang And More!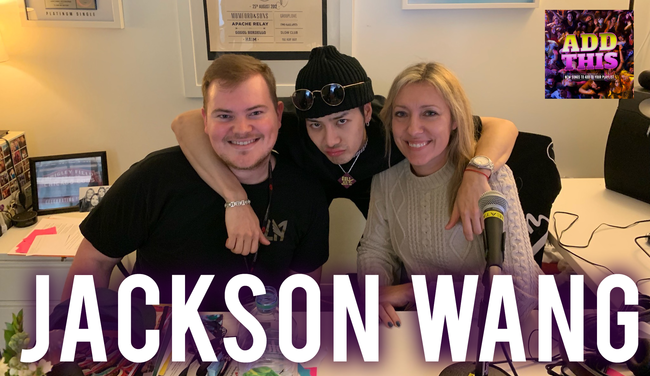 Jackson Wang is poised and ready to conquer the American music scene! The pop-star stopped by the KIIS FM studios to join Add This podcast co-hosts Beata, KIIS FM music director and Assistant Program Director, and Connor, KIIS FM Digital Content Manager. Jackson opened up about coming to Los Angeles, his #TeamWang fans and how he hopes they receive his new song 'Faded' due out March 9th 2019.
Wang's future in the United States is bright. He has amassed an impressive fan base locally and overseas due to concurrent music projects in China and South Korea and has secured a management team stateside. He said that all he wants out of extending his reach to America is the chance for people to get to know his work.
I don't know I'm just working hard. I hope everyone gets a chance to listen to it. No matter if it's good or bad, it's personal. The music is personal. I want to just put it on the table. Faded.
After his last visit to KIIS FM, his fans replied to social posts with supportive messages of love and admiration. On the topic of his fans cheering on his musical endeavors and listening to his new song, Jackson hopes they enjoy his new sound.
I'm happy to see them. They've been with me since day 1. They're everything...I hope they like it. I've been putting out a lot of hip hop tracks back in china. This is actually my first time actually challenging the pop genre. i feel like it's a new side of me. I hope they like it.
Listen to the entire episode here:
Not only do his fans enjoy is creative work, his family also count themselves members of #TeamWang. He shared that although his mother doesn't know the lyrics, she finds herself singing the melody. Wang's father is also very supportive but prefers him singing to rapping in his songs.
A dream collaboration for Jackson would be R&B icon Omarion, an artist he's looked up to since he was young.
I would love to...since I was a kid, it's been my dream. I want to collaborate with Omarion. I don't think it's going to happen but...he's like my role model.
Jackson closed out his time on Add This by wishing everyone a "Happy Valentines Day" and "Happy Chinese New Year." We'll definitely be seeing more from him in the coming months!