Ariana Grande's Dropping 'Sweetener' Cover Through Secret Instagram Account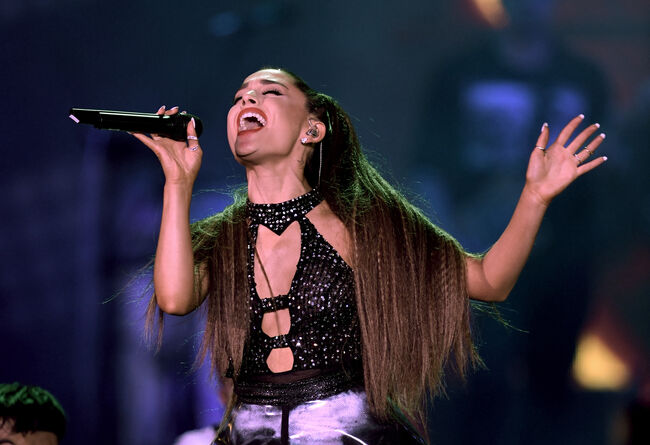 It appears that Ariana Grande and her team created a secret Instagram account on Tuesday June 12th to tease her forthcoming album's artwork.
Ariana's fourth studio album - referred to as AG4 by fans online and officially titled Sweetener during an appearance on The Tonight Show Starring Jimmy Fallon - is set to be available for pre-order on June 20th. The singer opened up to KIIS FM's JoJo Wright at iHeartRadio's Wango Tango on June 2nd and revealed a collaboration with Nicki Minaj called The Light Is Coming is also being released on that date.
Fans noticed an Instagram account with the username 'sweetener' popped up on the platform with a single photo posted in the timeline. The photo features an upside down profile shot of Ariana Grande against a peach background and only a small portion of her eye.
Her record label Republic Records is one of the account's 80.9K followers which adds further legitimacy to theory that more sections of the album artwork will appear on the account.
According to Billboard.com there will be a total of 8 photos posted to complete the image. So far we only have one and no set schedule as to when more will be posted on the account.
Stylistically the photo is in line with current promo materials for the album. Her first single 'No Tears Left To Cry' was promoted using upside down lettering on social media and on merchandise.
The No Tears Left To Cry music video also shared the theme. Watch below as Ariana Grande switches her orientation and moves through inverted spaces while performing the song.
In addition to her music, Ariana Grande is making headlines due to her speculated engagement with Saturday Night Live's Pete Davidson. Although she hasn't made a public statement, photos of her wearing what appears to be an engagement ring at iHeartRadio's Wango Tango and Kanye West's Kids See Ghosts album listening party have spread around the internet. Reports say that the engagement ring is allegedly worth about $100,000.
The Dangerous Woman singer also has a few high-profile music collaborations lined up to be released. She featured on Troye Sivan's latest song Dance To This which dropped on June 13th and is also teasing a feature on Nicki Minaj's upcoming release Bed.