The Frozen Frenzy Continues.. (And I LOVE it!)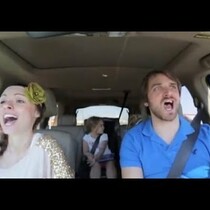 Posted March 28th, 2014 @ 12:44pm
I mean the movie Frozen has literally taken over the world!!!
Literally families that live in my apartment building sing it up and down the hallways here!
But these parents take the cake for cutest couple ever singing songs from Frozen!!
PS: My favorite part is the little girl in the backseat probably thinking 'What in the world are mommy and daddy doing?" ha!
WATCH BELOW: