Lululemons New "Spray On Yoga Pants" On Jimmy Kimmel Live!!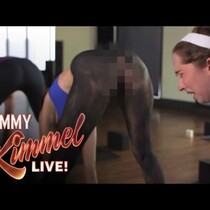 Posted March 28th, 2014 @ 8:53am
I guess the best pants are no pants at all, according to Jimmy Kimmel!! Last night on 'Jimmy Kimmel Live' they revealed Lululemon's new [fake] product - "Spray On Yoga Pants." Lululemon has been a hot topic lately due to the controversy that the pants are either too form-fitting, or don't provide appropriate sizes. But hey, with the new "spray on yoga pants" you can wear them anywhere, at all times! Haha!