Check Out These Great Deals & Events for St. Patty's Day!
Do you need some last minute St. Patrick's Day plans? Well we've got you covered! Join in the festivities with some deals and events going on in and around LA. Here's a list of just a few of the awesome St. Patty's Day parties, deals, and shows!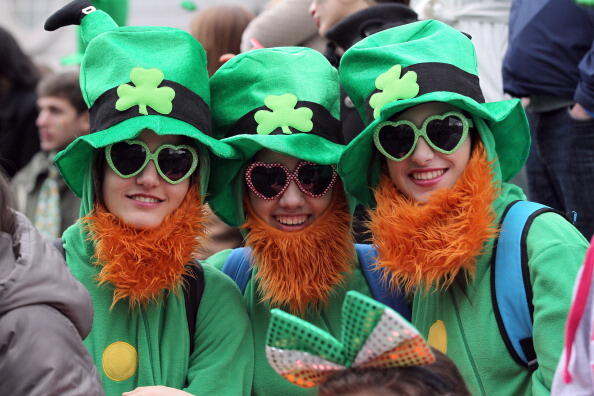 Deals:
Domino's: Now through March 20, place an order online with Domino's and all pizzas are priced at 50% off the normal menu rates.
Sonic Drive-In: All milk shakes are half-price on St. Patrick's Day. All-American and chili cheese hot dogs are just $1 on Wednesday, March 16, too.
7-Eleven: This weekend, the convenience store chain will be hosting BYO Cup Day on Friday and Saturday (March 18-19), when customers can fill any vessel within reason—like a sand pail or teapot—with Slurpee, at the flat price of $1.50.
IHOP: A short stack of pancakes costs just $1 all day on St. Patrick's Day.
Friendly's: Print out the linked coupon or simply show it to a server on a mobile device for 50% off mint ice cream sandwiches, Fribbles, and sundaes now through March 24, in honor of St. Patrick's Day.
Burger King: Indulge your sweet tooth with an Oreo Mint Shake for just $2.69.
Ruby Tuesday: St. Patrick's Day is the last day you can use this coupon to get one adult entree for half price when you buy one at full price.
Tim Hortons: Buy any beverage and receive a free mint chip Timbit while supplies last.
McDonald's: You know what time of year it is when McDonald's goes green — the Shamrock Shake is back for a limited time. Like all McCafe beverages, you can get one for just $2 Events:
Shamrock N' Roll Aboard the Queen Mary - Rock out to two stages of Irish Celtic rock, party tunes and more. Down green beer, nosh on Irish food and compete to win prizes in Irish themed games on board the legendary cruise liner.
Casey's 7th Annual Street Festival - On March 17 Casey's Irish Pub in downtown Los Angeles is hosting their 7th annual St. Patrick's Day Street Festival. Admission is free before 3:30pm and $10 thereafter. It will also be $20 to get into the street festival AND Casey's.
Pershing Square's St. Patrick's Bash - There will be a free outdoor lunchtime concert with Hollywood U2, Bad Haggis and the Clearly Irish Dancers and plenty of Irish and American food fare with food trucks, a beer garden and discounted beer. The event is free to attend.
St. Patrick's Day Open House at the Bunny Museum in Pasadena – The Pasadena Bunny Museum will host an open house on St. Patrick's Day. Bring some greens to feed some bunnies!
Tom Bergin's Public House 80th St. Patrick's Day Bash - this Thursday, bright and early at 6:00am and running all night long. You can dine on a Irish breakfast and coffee then hang out with the Guinness truck while they pour you a tall one. Irish-inspired cocktails, four satellite bars, beer pong tables, a DJ, Tullamore DEW Ice cream, green beer and a whole lot more will be going down at this historic pub.
Great Horror Movie Night: St. Patrick's Day Edition - at the Old Zoo in Griffith Park will screen cult favorite Leprechaun for St. Patrick's Day. The event will feature plenty of pre-show entertainment including games, prizes, and roaming scare-actors. Discount tickets are available via Goldstar while supplies last.
Flogging Molly LIVE SHOW - Merging traditional Irish music with punk rock, with a sound influenced in no small way by The Pogues, Irish-American band Flogging Molly are playing the world-famous Forum on St Patricks's Day.
All You Can Drink Beer at The Cannibal - Beginning at 7:00pm at this Culver City beer and butcher shop, the patio beer garden will offer all-you-can-drink beer for $25. In addition, savor all-you-can-eat corned beef and cabbage for $25.
Live Music and Food Trucks at the Angel City Brewery - Angel City Brewery in DTLA's Arts District is saluting St. Patrick's Day with food trucks (don't miss Downtown Taco Co's corned beef tacos), along with live music from We the Folk, The Lavender Scare, and The Howling Faith.
Drink Green Beer at the Morrison - The Morrison in Atwater Village will offer food and drink specials all day, including Guinness for $5, green beer for $4, corned beef specials, and more.
Drink Up at Villain's Tavern - Located in Downtown Los Angeles' Arts District, Villains Tavern and its steampunk vibe is home to some great St. Patrick's Day specials: $6 pints of Guinness, $6 Jameson shots, $8 Irish Car Bombs, and $10 Jameson Casemates Drink Special, along with live music from Rob Leines.
Party at Classic Pub Molly Malone's - A beloved L.A. landmark for over four decades, Molly Malone's Irish Pub is throwing a party featuring live music all day long, along with traditional Irish fare like Irish stew and corned beef. Admission will be $10
Local Pub Crawls :
o Hollywood Pub Crawl Website & Addresses:
http://aboutla.californianightlife.com/event/36783/hollywood_st_patricks_day_pubcrawl
o Santa Monica Pub Crawl Website & Addresses:
http://pubcrawls.com/saint-paddys-pub-crawl-santa-monica.php